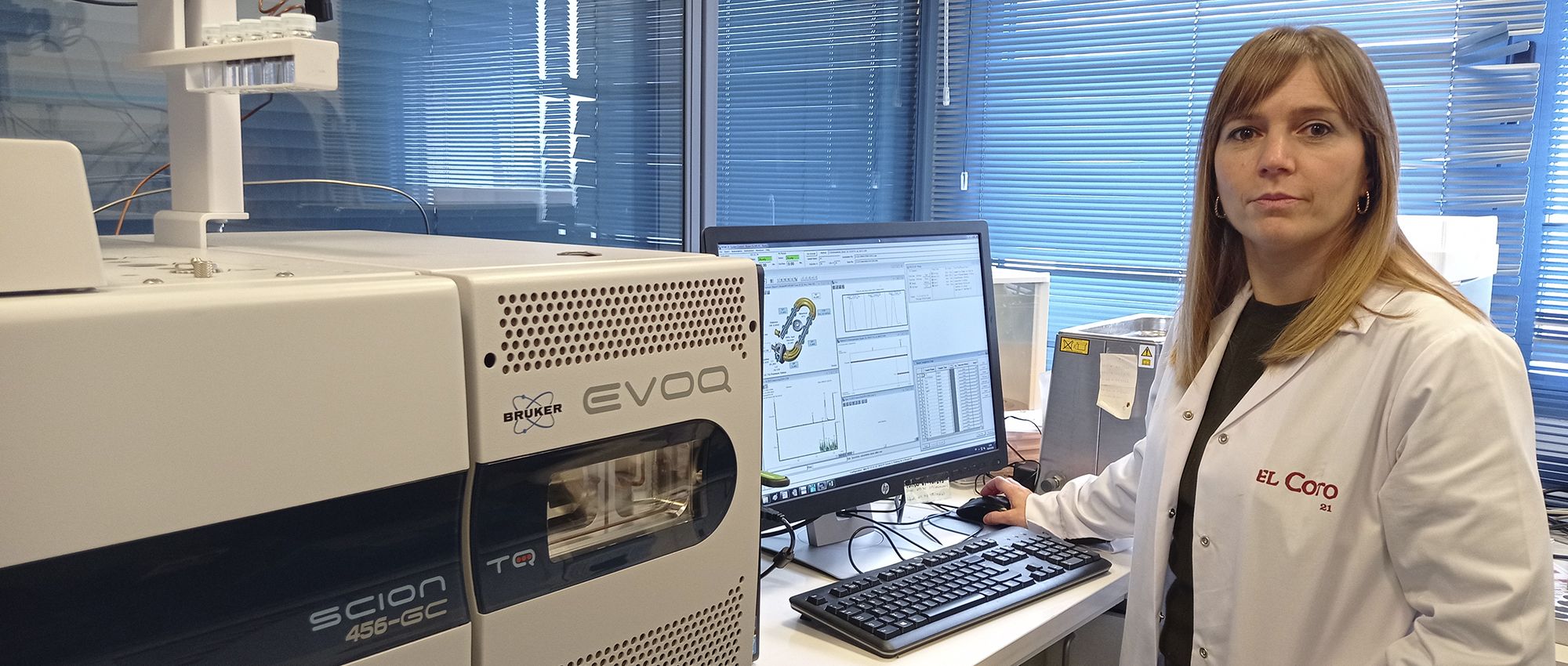 "The wine world is becoming less masculine and less stereotypical": an interview with Vanesa García, Head of Quality at the Barón de Ley Group
Even though the wine sector may seem to be a predominantly masculine field, a lot has changed over the last decades, both in the number of women working at all levels in the sector and the rate of wine consumption among women. We spoke with Vanesa García, Head of Quality and Food Safety at the Barón de Ley Group, which holds El Coto de Rioja.
With a degree in Chemistry from the University of La Rioja, Vanesa García is one of the most important women in the Barón de Ley Group. At the age of 43, she's spent half her life in the group. She has been working for the business for 22 years, specialising in the wine sector.
Vanesa, how did you start out in the Barón de Ley Group?
Well, I started off as an intern! I did my degree in Chemistry and, at first, I was looking to work at a laboratory, but I joined the group in 1999 and I'm still here.
I started out in the oenology laboratory. Over the years, various opportunities to get promoted came up and I didn't think twice about taking them on. That's why, after moving through various jobs with different levels of responsibility, growing along the way, I took the job that I'm in now in 2011, as the Head of Quality and Food Safety at the Barón de Ley Group. The winery has always given me the chance to grow.
Were you at all interested in the world of wine beforehand?
As a matter of fact, no. I was very young and it was in the laboratory that I started to get a taste for wine. I'd never really thought about going into the world of oenology. I have to admit that I feel a strong sense of belonging in La Rioja; however, my family has never had much to do with the wine world, apart from drinking it. At home there was always wine in the house.
Your career has developed spectacularly to get you to where you are now. But, in layman's terms, what is it exactly that you do in your department? What does your work involve?
Basically, what a quality department does is manage and oversee all processes, from the arrival of raw and additional materials to sending out the finished product. We are particularly vigilant when it comes to the bottling process and the materials involved (bottles, corks, labels), because this is the most critical part.
Apart from ensuring that our wines are top-quality, the Quality Department also keeps a close eye on legal compliance and food safety, through an internally recognised and certified management system. Specifically at El Coto, we are subject to "unannounced audits". This means that, at any time and without any prior warning, an auditor will come along and check our installations and our processes. That's why what we do on a daily basis is so important.
"I have to admit that I feel a strong sense of belonging in La Rioja".
What do you like most about the sector as a whole and the Barón de Ley Group specifically?
The wine-making process is marvellous and the associated analytical work is hugely interesting. The most rewarding thing about the Barón de Ley Group is its commitment to constantly improving, they're always ready to invest in new technology and machinery. We have laboratories kitted out with equipment that would be more in place in a university than in a winery. That is what has given me the space to grow and learn so much.
Vanesa, for a long time wine was considered to be exclusively a man's drink. But in recent decades up until now, this has really changed quite spectacularly. What do you think about women as consumers in the world of wine? Do you think there are still some clichés regarding how women consume wine (as drinkers of rosé, white, sparkling, sweet, etc.)?
Generally speaking, I think there are still some clichés, but I don't really see it that way among the people I know. You know? The main red-wine drinker in my family is my mother. I think it's really a matter of taste, not gender.
In my opinion, what does change is wine consumption by age range: the wine you drink at the age of 20 is not the same thing you start drinking as you find your place in the world and discover new products. When you start out, you go for sweeter ones, one's that are easier to drink, such as semi-sweet or rosé wines.
"I don't think there needs to be more women in the world of wine; I think there needs to be more qualified people, and women are definitely qualified."
And in the professional world? Have you ever felt that people have held any prejudice towards you?
We always create stereotypes and, as a matter of fact, I was more prejudiced than anyone, primarily when I fell pregnant. However, I was certain that having children would be part of my personal growth, and that runs parallel to my professional career. I didn't want to have to give up either of them. The company has always supported me, and here I am! Of course, in my family plans, I've always had unconditional support from my husband, and invaluable help from the children's grandparents!
In the professional world, I've always tried to have an interdisciplinary team that manages to get work done even when I'm away, which has helped me to combine these two aspects of my life. I've always made an effort to surround myself with top-level professionals, and now my team is made up of women.
Of course, the world of wine is a traditionally masculine world, but I think things are changing. In my case, it's really rewarding to see that you have put together a team of women who support you and to come across more and more women working as oenologists. Women have a particularly strong presence in the Quality Department, not just in this winery but in many others and in a wide range of sectors.
I don't think there needs to be more women in the world of wine; I think there needs to be more qualified people, and women are definitely qualified.