Tempranillo Wine: Characteristics and Pairings
Tempranillo wines are wines made from the grape variety of the same name, native to the Rioja region of Spain. As you know, the El Coto de Rioja winery belongs to the Rioja DOCa, and the majority of our wines are made with Tempranillo grapes. So, as connoisseurs of this raw material, we would like to tell you everything you need to know about Tempranillo wine so you can enjoy it even more.
Characteristics of Tempranillo wine
Tempranillo grapes are the most common in the Rioja region, but this isn't the only place in Spain where they are found. There are 28 designations of origin that are permitted to grow them. Other countries such as Argentina, Chile, Mexico, California, Australia and Portugal also grow them, but in smaller quantities.
Do you know why it is called Tempranillo wine? You should know that "tempranillo" is not a type of wine, it simply refers to the grape variety used to make it. Its name relates to its short ripening period. In general, it is a grape variety that produces very balanced wines, both in terms of acidity, and in alcohol and tannins. It also adapts well to longer aging in barrels. Young Tempranillo wine is fresh and fruity, with hints of strawberry and berries. As it ages, it develops hints of clove, wood, leather and tobacco. In some cases even offers hints of cocoa, coconut and coffee.
How to pair Tempranillo wine
It is easy to drink, having low levels of sugar and alcohol, so it pairs well with any type of meat, especially red meat, oily fish such as salmon or trout, with stews, or with cold meats and cheese boards.
Remember that the best way to enjoy your wine lies in the finer details of serving it. We can't just think about what goes best with the wine, we also need to consider the serving temperature. We recommend serving wines from this grape variety at between 16 and 18 °C. In addition, a Reserva or Gran Reserva red wine with Tempranillo grapes can gain in aroma and taste if you decant it. Here's how you can do it!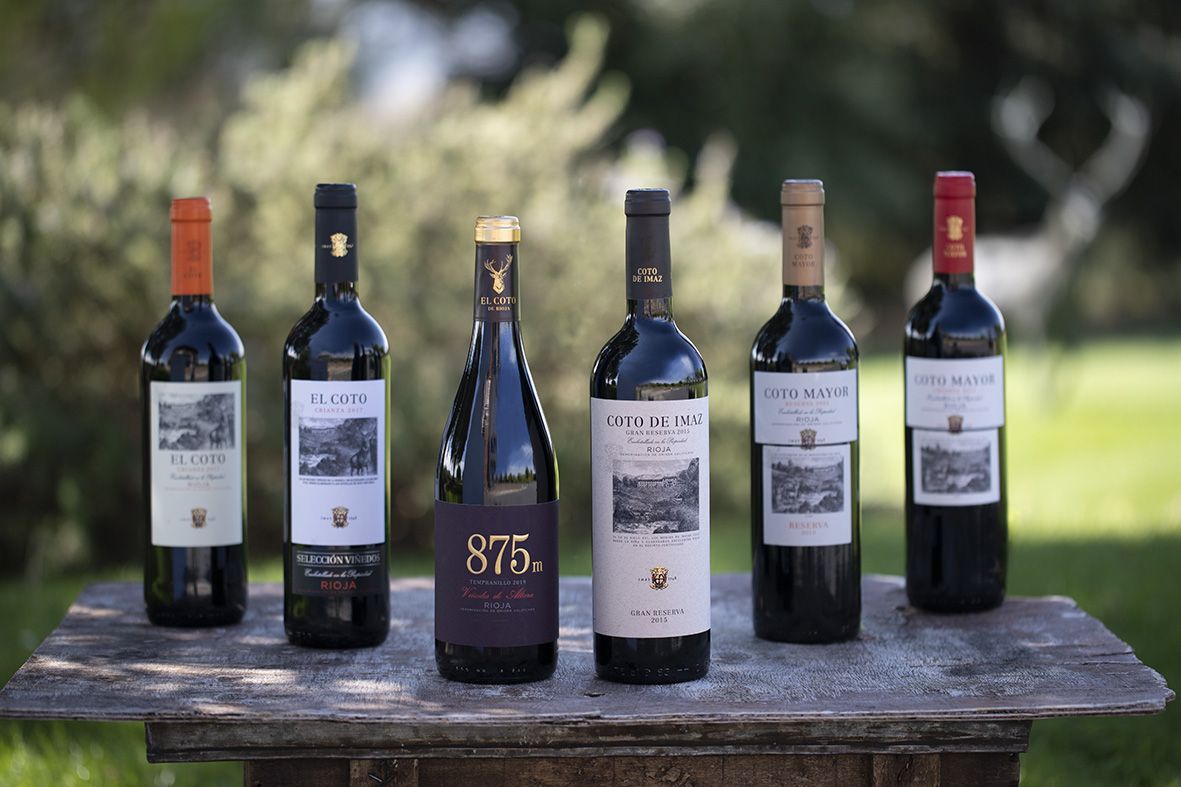 El Coto de Rioja Tempranillo wines
The majority of our wines are made with Tempranillo grapes. You probably already know El Coto Crianza, one of the best sellers in Spain, but today we can reveal a couple of new references for you to enjoy a good Tempranillo wine.
Our award-winning wines, Coto de Imaz Reserva and Coto de Imaz Gran Reserva are also made with Tempranillo grapes. It is thanks to this unrivalled raw ingredient and a traditional and nurtured production process that we are able to obtain these great, aromatic, balanced and mature wines. And what can we say about our 875 m High Tempranillo? A Crianza wine produced in the highest vineyard in the Rioja DOCa, fresh and intense, with notes of cocoa and coffee.
Have you tried our 875 m High Tempranillo?
You can buy all our wines here!