Why El Coto de Rioja is a benchmark in white wine
It's no coincidence that we have become the leading maker of white wines in DOCa Rioja over the past 10 years and that we are among the top 3 best-selling white wines in Spain.  Behind this success, there is lots of passion, perseverance and hard work. Want to learn the secrets to our success? We'll explain one by one.
El Coto: the largest winegrowers in La Rioja
To ensure our wines are top-quality, whether red or white, our first strategy was to own as many vineyards as possible. This way, we can always ensure an exceptional product, year after year
Today, we have no less than 730 hectares, all located in the various sub zones of DOCa Rioja.
See our map of vineyards and estates
Dedicated to new varieties
Ongoing innovation has been crucial to evolving over time and offering surprising products full of personality that stand out.
In fact, El Coto de Rioja was a pioneer in working with the new white varieties authorised by the Regulatory Board in 2006 (none had been authorised since 1925). They authorised Verdejo, Chardonnay and Sauvignon Blanc, and El Coto has been able to perfectly combine the tradition of our local grape, Viura, with the new varieties to make fresh, elegant wines.
Finca Carbonera: The highest altitude vineyard in DOCa Rioja
Finca Carbonera is the highest altitude vineyard in DOCa Rioja (875 m), and the heart of a unique project to make Rioja white wines. After years of searching, we found this estate that, with its special climate and soil conditions, is perfect for making white wine.
It was on this estate, in fact, that our white wine project was born, including 875m Chardonnay, among many other specialities.
The only on-site crushing facility in Rioja vineyards
If there is one thing that sets our Finca Carbonera vineyard apart, in addition to its impressive 200 hectares of land, it is that it has a facility to turn the grapes into must on site, just minutes after being harvested, which helps maintain the grapes' qualities. This way, we prevent oxidation and the extraction of polyphenols that can occur while the grapes are being transported to the winery, especially on warm days in late summer.
On-site crushing facilities, in fact, are quite common in France in the Champagne region, where sales prices mean they can afford this extra investment.
Types of white wine in Spain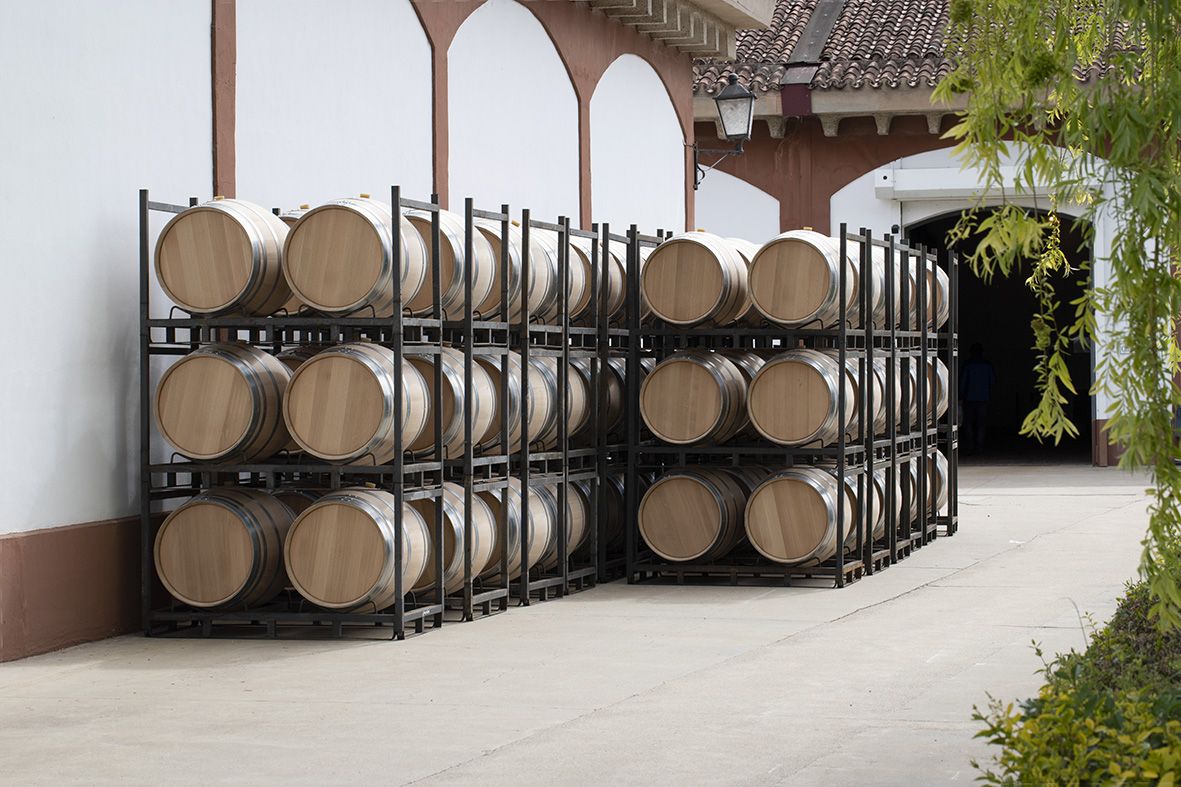 Winery specialising in making whites
White and rosé wines use much more technology in the winemaking process. It is essential to have the latest advances in refrigeration and fermentation. So, El Coto de Rioja has invested in building a specialised winery with the latest technology to make white wines.
And this winery isn't the only one with this type of specialisation. Within the winemaking process, we have 11 other specialised spaces so that each step, from ageing to bottling, is done independently under optimal conditions.
Visit each of our wineries
Greater diversity of varieties and wine types
In recent years, El Coto de Rioja has launched several new products to market, many of them white wines. As a result, our winery has one of the biggest lines of white wines in Spain:
Young whites
Wood-aged whites
Delight in our whole line of whites in our shop
Accessibility of our products
All this hard work would be meaningless if you couldn't experience and enjoy the wine like we do. We want to be there for you, any time! So, we can't end this list of reasons why El Coto de Rioja is a benchmark without mentioning the accessibility of all our wines.
Through our online shop or your nearest supermarket or restaurant, we make it easy for you to find your favourite wine, regardless of the category.
Apart from being easy to find, we also want to be as affordable as possible without sacrificing quality. That's why we do everything we can to make excellent quality at affordable prices. This way, you can always enjoy an exceptional white wine, whether for a normal day or special occasion.
And if you want to learn more about the world of white wine, take a look at these articles: